Google Classroom Parent Tutorial
What is Google Classroom? How Can You Monitor Your Child's Progress and Assignments in It? Click on the Below Video for a Helpful Parent Tutorial.
Google Classroom Student Tutorial
Students, View the Tutorial Below to Understand How to Log In to Google Classroom and View and Submit Assignments.
Other Useful E-Learning Links
Learning Can Continue While At Home. Parents and Students, Try These Fun and Educational Sites for Enrichment!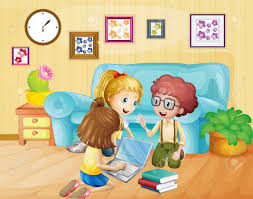 *Accelerated Reader Book Finder (Reading at home? The below link allows you to search a book's level and points).
*Accelerated Reader Quizzes (Quiz on books read from home)!
*Lexia Core 5 (Individualized Reading Path and Lessons for K-5)
*Lexia Strategies 6th Grade (Individualized Reading Path and Lessons for 6th Graders)
*Cool Math for Kids (Free Online Math Games)
*Wacky Web Tales (Create Wacky Web Stories and Author Your Own Tale!)
*PBS Kids (Games and Activities That Build Math and Reading Skills)
*Reading Rockets (Resources to Help Struggling Readers Build Phonemic Awareness, Phonics, Fluency, Vocabulary, and Comprehension Skills.)
*ABCYA.Com (Educational Games in Various Subjects Including Logic, Math, and Reading)
*USA Test Prep (ACAP and ACT WorkKeys Practice. Standards Aligned Videos, Games, Interactive Puzzles, Item of the Day, and More)
* 6th-12th Smithsonian Learning Lab
(A Free, Interactive Platform to Share in the Smithsonian's Expansive Community of Knowledge and Learning.)
*San Diego Zoo (Take a Virtual Trip to the Zoo Right from Your Home! Discover Animal Facts and Conservation Status!)