Schoology Demonstration and Tutorial for Parents
Schoology is a social networking service and virtual learning environment for K-12 school and higher education institutions that allows users to create, manage, and share academic content. Click on the tutorial video below for helpful information.
Schoology Student Tutorial
The below video offers an overview of schoology for students. Students, please watch.
Google Classroom Parent Tutorial
What is Google Classroom? How Can You Monitor Your Child's Progress and Assignments in It? Click on the Below Video for a Helpful Parent Tutorial.
Google Classroom Student Tutorial
Students, View the Tutorial Below to Understand How to Log In to Google Classroom and View and Submit Assignments.
Other Useful E-Learning Links
Learning Can Continue While At Home. Parents and Students, Try These Fun and Educational Sites for Enrichment!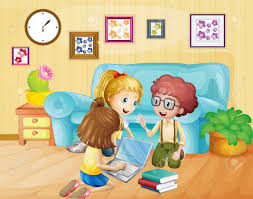 *Accelerated Reader Book Finder (Reading at home? The below link allows you to search a book's level and points).
*Accelerated Reader Quizzes (Quiz on books read from home)!
*Lexia Core 5 (Individualized Reading Path and Lessons for K-5)
*Lexia Strategies 6th Grade (Individualized Reading Path and Lessons for 6th Graders)
*Cool Math for Kids (Free Online Math Games)
*Wacky Web Tales (Create Wacky Web Stories and Author Your Own Tale!)
*PBS Kids (Games and Activities That Build Math and Reading Skills)
*Reading Rockets (Resources to Help Struggling Readers Build Phonemic Awareness, Phonics, Fluency, Vocabulary, and Comprehension Skills.)
*ABCYA.Com (Educational Games in Various Subjects Including Logic, Math, and Reading)
*USA Test Prep (ACAP and ACT WorkKeys Practice. Standards Aligned Videos, Games, Interactive Puzzles, Item of the Day, and More)
* 6th-12th Smithsonian Learning Lab
(A Free, Interactive Platform to Share in the Smithsonian's Expansive Community of Knowledge and Learning.)
*San Diego Zoo (Take a Virtual Trip to the Zoo Right from Your Home! Discover Animal Facts and Conservation Status!)