Contact: Mrs. Nina Green Phone: 334-365-8329 ext. 24012

Read And SOAR To New Heights!!!!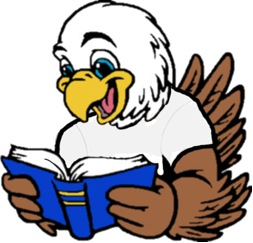 "To read is to fly: it is to soar to a point of vantage which gives a view over wide terrains of history, human variety, ideas, shared experience, and the fruits of many inquiries."
-A.C. Grayling
"Give yourself unto reading. The man who never reads will never be read; he who never quotes will never be quoted. He who will not use the thoughts of other men's brains proves that he has no brains of his own. You need to read."
-Charles Spurgeon
Welcome to the 2022-2023 School Year!!!!
Philosophy
Our school library strives to be a learning lab that provides information services, educational programs, and wholesome books to our community of students, parents, and faculty. Our goal is to develop the skills needed to encourage a lifelong love of reading and self reliant learners. Over the school year, we teach students library and research skills, and share wonderful books!
Autaugaville Community and Parents
Our library is here to serve you also. We are adding a parent corner to our library to address your internet needs (specifically, STI parent portal) and help you use digital resources as you nurture your child's educational growth.
Autaugaville Teachers
Classroom materials and ready-to-use resources using Library of Congress' sources can be found at this link. Search for materials by standards or subject content: http://www.loc.gov/teachers/classroommaterials/
Hours
Our library is open all day during school hours (8:00 am- 2:45 p.m.) during school hours and operates on a fixed and flexible schedule. There are certain times for classes (usually morning) and other times when students may come individually with a library pass. Teachers can also reserve the library for their classes.
Helpful Links/Resources:
AR Reader Home Connect (K-6th)
This is a special feature of the Renaissance Place Learning program. Parents can track student's points and AR history! Click on the following link: https://hosted276.renlearn.com/365206/homeconnect/
OPAC/Destiny Quest (At Home)
Autaugaville School's online card catalogue is available at school and home! You can search our database for books available at our library. Access by clicking on the link: https://acboe.follettdestiny.com/quest/servlet/presentquestform.do?site=109&context=saas26_0152535&alreadyValidated=true
Helpful Search Engines
http://www.britannica.com (Encyclopedia Britannica)
(Gale for Kids, EBSCO Host for Kids, Sirs Discoverer)
http://www.avl.lib.al.us/ (Alabama Virtual Library homepage)
Copyright Wesbites
http://www.copyrightandschools.org/
http://www.ala.org/advocacy/copyright (Links to major resources in the area of copyright and intellectual property, provided by the American Library Association)
Online Safety
http://kidshealth.org/en/parents/net-safety.html (Cyberbullying, protecting online identity and reputation, COPPA and internet safety laws, etc)
5 Criteria for Evaluating a Website's Credibility (Parents and students, some information on the web is may not be accurate. Use this criteria to examine the webpages you are viewing).
http://atlantic.edu/studentServ/lac/evalWeb.html
Educational Games
1.) https://www.funbrain.com/?utm_source=bing&utm_medium=cpc&utm_campaign=Desktop%20Search%20Network&utm_term=funbrain&utm_content=Branded
3.) http://www.arcademics.com/
A Peek Into Our Collections...
The Library at Autaugaville School has 9,000 print sources. There are 9 computers students may use. A black/white printer is available for student and faculty use.
Library Rules:
1. No loud talking. Use inside voices.
2. Listen and follow direction.
3. Do not run or play around.
4. Show respect for the library and all library materials.
5. Read, read, read!